The term nonpartisan can be confusing and mean different things to different people. Many don't believe groups can truly be nonpartisan in such politically divisive times.
So we say instead, "The League neither supports nor opposes candidates or political parties."
How does that play out in the real world?
Three League of Women Voters members — Barbara Zia, Catherine Malloy and Brian Duffy — put together a presentation that explores more deeply our commitment to non-partisan voter education and service.
View the nonpartisanship presentation (PDF file format)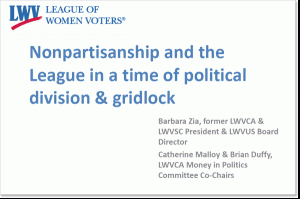 Created by:
Barbara Zia, former LWVCA & LWVSC President & LWVUS Board Director
Catherine Malloy & Brian Duffy, LWVCA Money in Politics Committee Co-Chairs