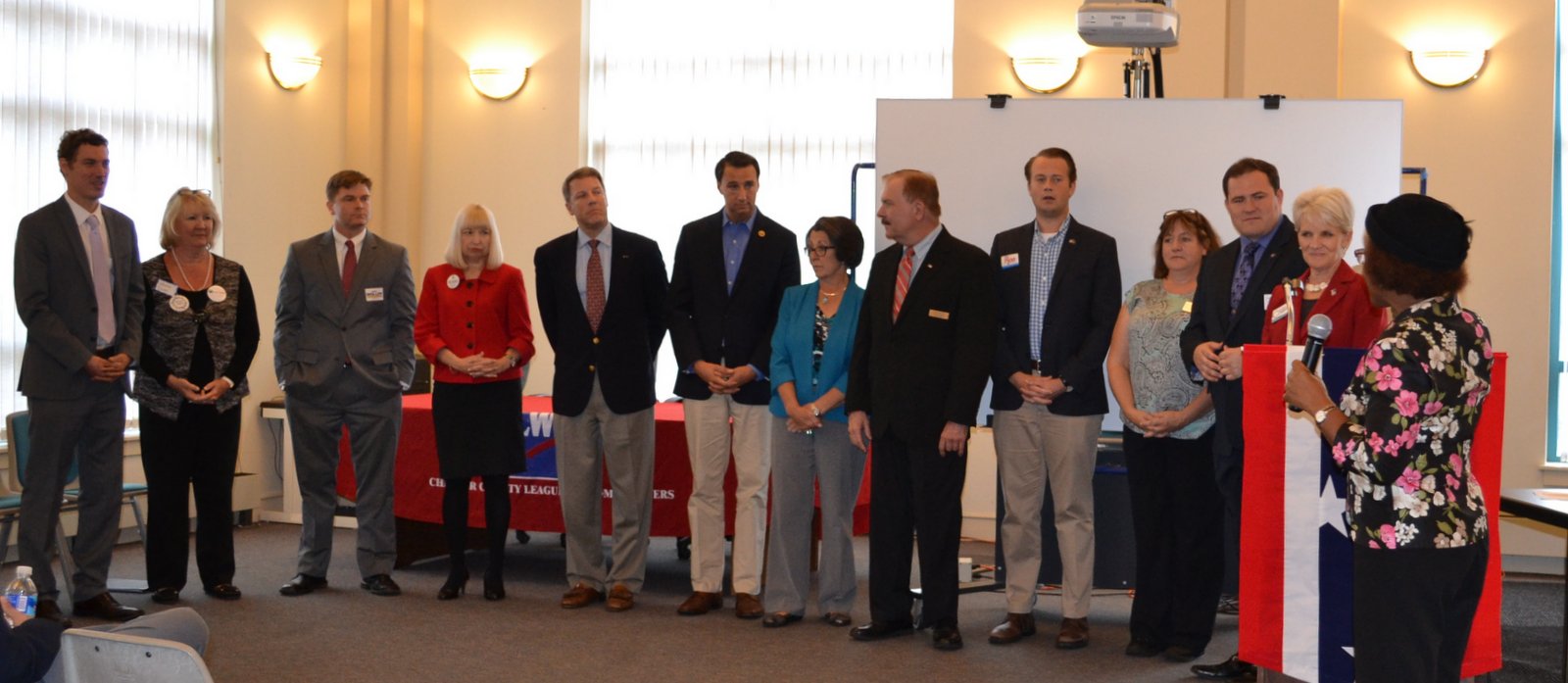 Dear League Members:
A big thank you to those of you who came out to support the "Celebrating the Right To Vote"  event, yesterday. Attendance was a little light, and we had way too much food, but we had fifteen candidates there –  Congressman Ryan Costello and his Democratic challenger Mike Parrish;  Senator Andy Dinniman; Senator Tom Killian and his Democratic challenger Marty Malloy;  Representative Becky Corbin and her Democratic challenger James Burns; Mary Ellen Balchunis, running for U.S. House in West Chester Mayor Carolyn Comitta, running for PA House in the 156th District; Downingtown Mayor Josh Maxwell, running for PA House in the 74th District; Nancy Dean, running for PA House in the 13th District; Hans Van Mol, running for PA House in the 167th District; David Cleary, running for PA House in the 160th District; and Susan Rzucidlo and Eric Roe, running for an open seat in the PA House, 158th District.
Gracenotes sang like angels.  We had an impressive review of the life of Inez Milholland, presented by Sarah Newell, one of our newest members.  Lunch was delicious.  The audience listened attentively to the candidates.  And those who remained for the film appeared to enjoy it.  There was laughter in all the right places and gasps in all the right places. The issues presented in the film were very apropos.
Looking forward, we have the Criminal Justice Conference on October 27.  That event is free, and because we are doing it in coalition with two churches, we are anticipating a good turnout.  Please come out to support the League.  There is power in numbers! Then, on Sunday, December 18, 2016 we have the Holiday Gathering:  "Meet The Members" from 2:00 p.m. to 5:00 p.m.  at Windon Hall, 803 West Market Street, West Chester, PA 19382 (East Bradford Township).  That event is also free (pot luck) and I'm hoping to have our friendly comedienne there to entertain us.  More about that later, but please put the Holiday Gathering on your calendar and start planning what to bring.
On a separate note, thank you to all of you who have given over and above your annual dues to the League.  Your donation is much appreciated!
In League,
Jennifer W. Levy-Tatum, Esquire
President
League of Women Voters of Chester County
Telephone: (610) 316-2126